Q+A Program for Teams
High impact two-day workshop for salon teams serious about growth!
Qnity Private Programs
Qnity personal and professional training, tools and practices designed to help your salon prosper brought to you.
Qnity Program Online
A 10 week virtual program using video modules & group discussion calls!
ASK/Prosper
A 3 part program for service providers and salon leaders serious about growth.
Ambassador Retreat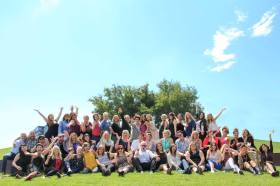 2018 Retreat: Join us in July, 2018 in Minneapolis for a retreat with our top Ambassadors and Educators to dive deeper into the Qnity training, tools, and practices for a greater level of prosperity. You must be an Ambassador to attend this retreat. To apply for our Ambassador program, please contact Erin Kuhn at 952-237-7729 or erin.kuhn@qnityinc.com
FAQs
Have questions?